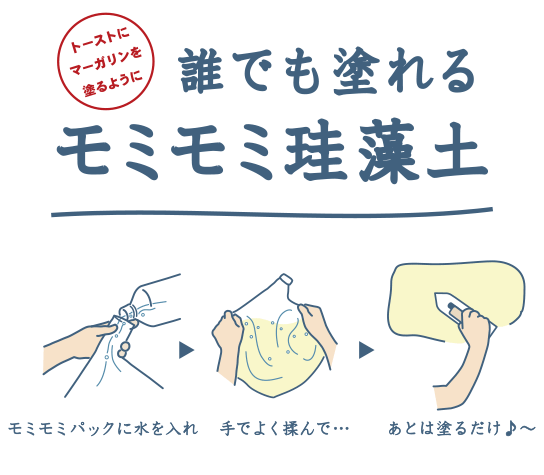 What is Momi Momi Diatomaceous Earth? [Momy]
Momy is a special diatomaceous earth wall coating that lets even first-time DIYers easily achieve humidity-regulation and odor-eating functionality by simply applying to a wall.

Momy differs from traditional stucco-based diatomaceous wall coatings in that it is 50% less heavy (based on our research), letting you easily do a DIY job yourself and achieve a diatomaceous wall coating!

モMomy is light in weight, so it does not drip from the trowel as you apply it. It also goes on smoothly and is easy for even DIY beginners to use!

Applying to the ceiling is easy, too, reducing strain and fatigue and making work more efficient. Now you can renovate an entire room, taking advantage of the properties of diatomaceous earth.

This improved lightness also enables reductions in the cost of packaging and distribution, making it an eco-friendly product. To that end, we ship the diatomaceous earth in powdered form. The Momi Momi pack is designed to allow you to knead the earth yourself without the need for special machines, tools, or receptacles. Simply add water to the pack and knead it with your hands to prepare the Momy Momi Diatomaceous Earth and begin using it. (Patented product)

Try a DIY renovation using Momi Momi Diatomaceous Earth! [Momy]

Copyright(C) 2016 Poshdeco Inc. All rights reserved.